New Wednesday Yoga Class...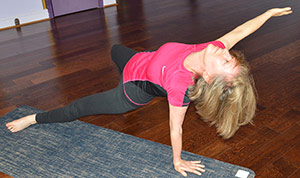 18:30 - 20:00 - YogaFlow with Ian.
Vinyasa (movement with breath) yoga for flexibility, strength, balance and core. Discover the power within you!

DETAILS
Fancy a challenge?

If you are interested in learning advanced yoga poses such as arm balances, headstands, handstands and more advanced versions of poses you may already practice drop us a line.
If enough are interested, we will do a Friday night class (6:30 - 8:00pm) where we can explore our potential, challenge and amaze ourselves, create good energy and have some fun doing it!
Click/tap

HERE an put 'Friday yes' in the comments box
Busy yoga classes...
Sue Woolley Classes are now fully booked for this session - please contact Sue if you wish to be on her reserve list for Monday evening or Friday morning sessions.
Click/tap

HERE

Get The Yoga Studio eNews
Keep up-to-date with classes, events and workshops when you opt-in to receive our occasional eNews. Simply enter your details below.
Please be assured that we will not share your email address with anyone else. You can easily unsubscribe at any time.
Yoga, Pilates, Dance and Fitness Teachers ...
Start-up packages available for new classes. We can even help you with promoting your class or event. Contact us for details
© All material on this website is subject to copyright 2015-2017
The Yoga Studio logo is copyright and may not be reproduced without express permission of the owner.