Courses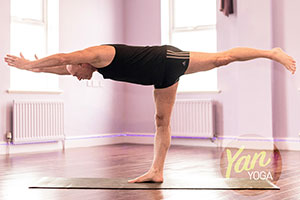 These Ashtanga-based sessions follow the vinyasa 'flow' style of yoga devised by Sri K. Pattabhi Jois of Mysore, India, with poses that challenge the body and focus the mind. All movement and poses are achieved through inhaling and exhaling.
As your practice builds the poses will flow continuously, creating overall body strength, muscle tone, flexibility, core strength, stamina and focus.
There is no Sanskrit to learn and no meditation - not an 'Om' to be heard! Classes are taught in plain English along with Yan's unique insight into the mechanics of the human body and how they apply to yoga. And, of course, plenty of humour - yoga should be fun!
Places are limited so please contact Yan on 300732 for availability.
One-2-One sessions are also available. Call to discuss your requirements.
Six Week 60 mins Yoga Course - TUESDAY - FULL
Next course starts Tuesday 11th May2021
6:30 until 7:30pm
Available for booking soon. Call/text 300732 for details
Six Week 60 mins Yoga Course - WEDNESDAY- FULL
Next course starts Wednesday 12th May 2021
7.00 until 8:00pm
Available for booking soon. Call/text 300732 for details
Six Week 90 mins Yoga Course - THURSDAY
Next course starts Wednesday 12th May 2021
7.00 until 8:00pm
A little more challenging that the Tuesday and Wednesday classes, exporing breathing, focus, core strength and stamina. Arm balances, inversions and more advanced poses form futher challenges for the mind and body.
Not suitable for beginners. ONLY 2 PLACES LEFT! Call/text 300732 for details